Our Ambassador Programs
When one defines the word ambassador, you'll find that it means a person who acts a representative or promoter of a specified activity. Wanting to equip youth with tools they can use to help empower other youth, Lefty developed his Ambassador Programs: Keeping Promises and Dream Keepers. These programs' goals are to put youth at a vantage point, allowing them to gain a better perspective of the world in which they live, as well as move them forward with their goals and aspirations.
DARE2DREAM Basketball Camp
Grant Application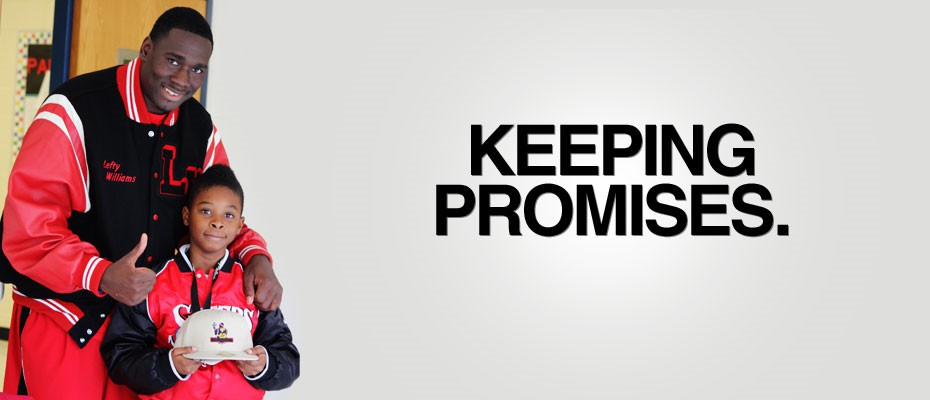 Dare 2 Dream Tour
The Dare 2 Dream tour brings Lefty to schools all across North America! On this tour, Lefty captivates the youth with his motivational speaking, mind-blowing basketball tricks, and various prizes! Even with all the excitement that Lefty brings to the youth, he leaves them with something far greater: the charge of Daring 2 Dream! Lefty's Dare 2 Dream tour is more than just getting the youth pumped up about their future. It's about equipping them with the tools necessary to not only hold onto those dreams, but also to actively move forward in reaching them. The Dare 2 Dream Tour helps in creating a stronger body of young people who will carry on as our future leaders! Lefty wants the youth to know that his ceiling of achievements as a professional basketball player will be the floor on which they will stand in platforming their own achievements. Many of the topics on which Lefty touches include substance and alcohol abuse, child abuse, HIV/AIDS, abstinence, setting and achieving goals, peer education and mentorship, higher education, and healthy lifestyles, among many other topics! Lefty's focus as he speaks to the youth is to bring into focus the keys to overcoming challenges that are relevant in their lives.
The Keeping Promises Campaign
Is geared towards elementary and middle school aged youth. This campaign's goal is to help its participants recognize and understand the importance of making and keeping promises or commitments. Whether those promises are to keep bullying out of their school, maintain healthy lifestyles through good eating habits and exercise, or to become a volunteer within the community, it is important for youth to know how to follow through with commitment.
Dream Keepers
Is geared towards high school students and college aged young adults. This campaign's goal is to help participants keep their dreams alive and work towards those goals without compromise. While each campaign focuses on a different age group, they both place a focus on setting and working towards goals as well as equipping participants with tools to help empower other youth their age.
DARE 2 DREAM Basketball Camp
When the Dare 2 Dream Basketball Camp was developed, Lefty had a vision of an event that would do more than just teach participants game skills and techniques. The mission of the Dare 2 Dream Basketball Camp is to develop and improve player versatility and skill for participants while equipping them with tools that will go beyond the basketball court. Keeping in line with his programmatic thrust, Lefty brings into focus the importance strengthening the mind and body, being accountable, as well as maintaining enthusiasm and determination. Help to strengthen the youth in your community by bringing the Dare 2 Dream Basketball Camp to a city near you today!